The cornerstone of basement waterproofing
What is a sump pump?
And why do you need one
A sump pump is a waterproofing system that acts as your home's first line of defense against basement flooding. Essentially a pump installed into the foundation of a home, a sump pump will remove water build-up in the foundation of a basement or crawl space by depositing it into a discharge line and expel the water away from the foundation. Many homeowners will also have a battery backup sump pump installed to keep their homes protected from flooding if the power goes out during a storm.
At Summit Basement Company, we recommend sump pump installation for anyone located in an area with a high water table or prone to flooding.
Sump Pump Installation
It pays for itself
At Summit Basement Company, we have proven sump pump and battery backup sump pump systems that provide lasting protection against basement flooding. Below are the benefits of having a sump pump installed in your home. You can also contact us and schedule a FREE consultation with one of our basement waterproofing specialists for more information.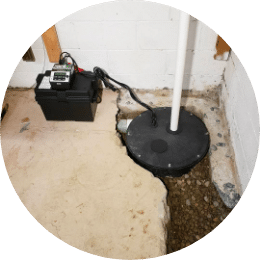 Preventing Flood Damage
During heavy rains, a sump pump can really be a lifesaver. Without a sump pump, your basement could quickly flood with a foot of standing water, ruining anything of value.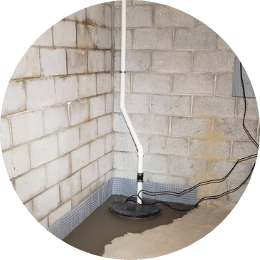 Mold Prevention
Moisture in your basement can cause mold growth. Having a sump pump will go a long way to keeping your basement dry, preventing mold growth, and keeping you and your family healthy.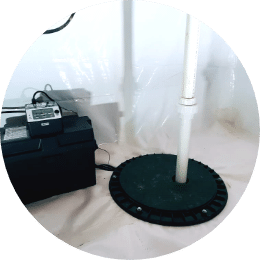 Increased Property Value
Homeowners love it when their home, current or future, is protected from foundation flooding. Having a sump pump installed by Summit Basement Company can help your home maintain its value.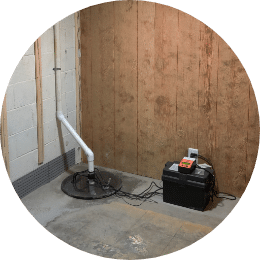 Fire Prevention
Flooding is a common cause of electrical fires. Whenever a basement floods out, appliances can short out, possibly leading to fires. Even if the flooding doesn't cause a fire, your appliances may still be ruined.
Why Choose Us
As your basement waterproofing partner
We Protect Your Home
H.E.P.A. filtration, negative air machines, and dust barriers are just a few methods we use to isolate the mess to the project area.
Attention to Detail
Our process is meticulous. We do things that others won't. These details can make or break your waterproofing system.
Trained & Certified
An educated and productive team means your project is completed right the first time and on schedule.
What Our Customers Are Saying
"Jake was very knowledgeable, responsive and does amazing work. Prices are very competitive/affordable compared to other basement services in the area. Highly recommended!
—Michael S.
I contacted the company by email and the responded back right away. Jake came the same week and addressed all my concerns of cracks in my walls. Explained what my issue was and gave me all my options. He was very professional and knowledgeable. Thank you so much!! Great company... would definitely recommend!
—Deanna D.
"We were at our wits end trying to find a contractor to repair our foundation. We called Jake and from day 1 he was responsive and honest with us on what needed to be done and how much it would cost. He kept every appointment he made with us and arrived on time. On the day of the repair, Jake showed up with his crew on time. The work was done accurately and quickly and our house is solid. We are extremely pleased with the work and highly recommend Jake and company for any foundation work you need done."
— Tammy S.
"The guys arrived on time and worked very hard to get the job done in a timely manner. Even through removing drywall, concrete, and installing drain pipes and a new sump pump they kept the area neat and clean - even took extra precautions to not track mud on the floors!! The crew was very professional, the work they completed is great, and the price was right!! Highly recommend!"
—Angela G.
"Very professional and courteous, prompt gives full explanation of work that is needed as well as cost saving tips. Wasn't in a rush,made sure we had a full understanding of the work that would be required to have the job done correctly which made my wife and I feel good about the company we contacted... Highly recommend Jake"
—Ronald I.
 "Jake came out to inspect our basement and gave us an honest assessment. He took the time to look at all of the issues and put our minds at ease. A true professional. I would recommend them to anyone in need of structural repair."
— Christopher S.