Take back your creepy crawl space
Crawl Space Encapsulation
For a safe and healthy home
A wet crawl space can spell disaster for your entire home. Today, most homeowners don't realize that what happens in this area can significantly influence the rest of their house. A crawl space that isn't encapsulated can cause severe damage to wooden support beams and floor joists. These materials can start to rot, warp, and decay overtime if left untreated. Also, a flooded crawl space can lead to the development of dangerous mold and bacteria.
Furthermore, an unsealed crawl space is an open invitation for letting in unwanted critters, such as skunks, snakes, spiders, rats, mice, termites, roaches, and other pests you don't want living underneath your home!
How to spot crawl space problems
Look for the warning signs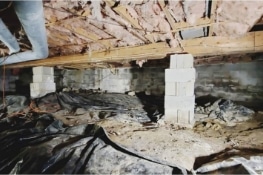 Creaking and sagging floors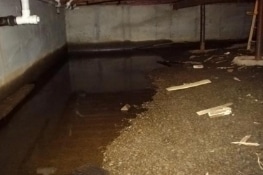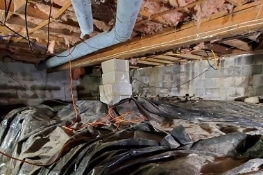 Mold and mildew growth on belongings in crawl space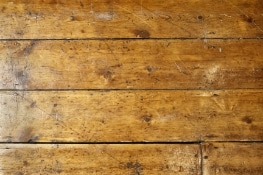 High humidity in your home
Why should you consider crawl space encapsulation?
We have four simple benefits
Summit Basement Company has the proven systems and experience to provide lasting solutions to keep your crawl space secure and dry. Below are the benefits of crawl space encapsulation using our reinforced vapor barriers. You can also contact us and schedule a FREE estimate with one of our crawl space specialists.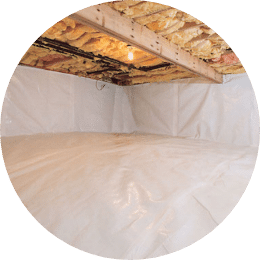 Freedom From Mold
Crawl space encapsulation seals off the area underneath your home from the outside environment. Never again will you need to worry about this area flooding or growing mold that could jeopardize your health and family.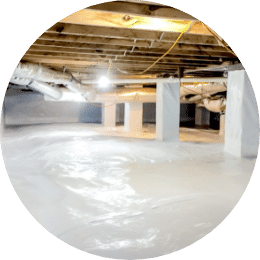 Lower Energy Bills
Crawl space encapsulation provides a considerable reduction in the humidity of your home, helping your HVAC unit to cool your home faster in the summer months leading to lower energy bills.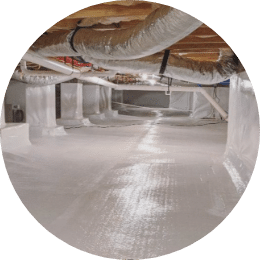 Improved Air Quality
More than 50% of the air you breathe in your home comes up from your crawl space. An encapsulated crawl space will prevent harmful vapors from circulating throughout your home.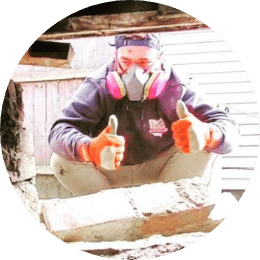 Lifetime Warranty
At Summit Basement Company, our crawl space vapor barriers are backed by a lifetime warranty. If our vapor barrier fails, we will install a new one at no charge for any reason.
Why Choose Us
As your Crawl Space encapsulation partner
We Protect Your Home
H.E.P.A. filtration, negative air machines, and dust barriers are just a few methods we use to isolate the mess to the project area.
Attention to Detail
Our process is meticulous. We do things that others won't. These details can make or break your encapsulated crawl space.
Trained & Certified
An educated and productive team means your project is completed right the first time and on schedule.
What Our Customers Are Saying
"Jake was very knowledgeable, responsive and does amazing work. Prices are very competitive/affordable compared to other basement services in the area. Highly recommended!
—Michael S.
I contacted the company by email and the responded back right away. Jake came the same week and addressed all my concerns of cracks in my walls. Explained what my issue was and gave me all my options. He was very professional and knowledgeable. Thank you so much!! Great company... would definitely recommend!
—Deanna D.
"We were at our wits end trying to find a contractor to repair our foundation. We called Jake and from day 1 he was responsive and honest with us on what needed to be done and how much it would cost. He kept every appointment he made with us and arrived on time. On the day of the repair, Jake showed up with his crew on time. The work was done accurately and quickly and our house is solid. We are extremely pleased with the work and highly recommend Jake and company for any foundation work you need done."
— Tammy S.
"The guys arrived on time and worked very hard to get the job done in a timely manner. Even through removing drywall, concrete, and installing drain pipes and a new sump pump they kept the area neat and clean - even took extra precautions to not track mud on the floors!! The crew was very professional, the work they completed is great, and the price was right!! Highly recommend!"
—Angela G.
"Very professional and courteous, prompt gives full explanation of work that is needed as well as cost saving tips. Wasn't in a rush,made sure we had a full understanding of the work that would be required to have the job done correctly which made my wife and I feel good about the company we contacted... Highly recommend Jake"
—Ronald I.
 "Jake came out to inspect our basement and gave us an honest assessment. He took the time to look at all of the issues and put our minds at ease. A true professional. I would recommend them to anyone in need of structural repair."
— Christopher S.