We're one of the best structural repair companies in Ohio
Structural Repair
Designed to fix bowing basement walls
Bowing in basement walls is usually the result of hydrostatic pressure in the soil surrounding the home. Clay soil, typically found around a home's foundation, can be very absorbent. Whenever it rains, that clay soil quickly absorbs the moisture and swells up. When that soil swells, it puts tremendous pressure on your basement walls. This pressure is known as hydrostatic pressure, and 9/10 is the cause of your bowing basement walls.
For Summit Basement Company, bowed wall repair is easy for our trained and knowledgeable professionals. If your home has a bowing or leaning basement wall, contact us as soon as possible to stop the damage from getting any worse.
How do you know you need structural repair?
Look for the warning signs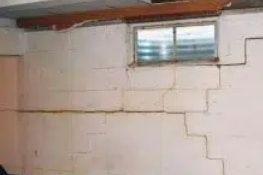 Bowing or leaning basement walls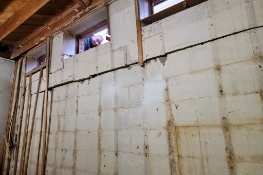 Noticeable cracks in drywall and foundation walls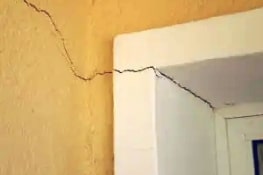 Doors and windows becoming harder to close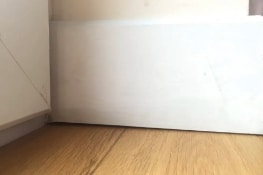 Sagging floors and ceilings
Summit Solutions
For your bowing basement walls
Summit Basement Company has repair systems and services designed to provide lasting solutions to keep your walls standing when it comes to bowed walls. Below are the services we can provide to secure your basement. You can also contact us and schedule a FREE estimate with one of our basement repair pros.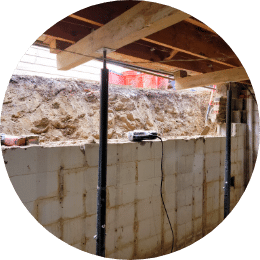 Stabilizer
Stabilizer is a pre-engineered, effective, permanent solution that restores structural integrity to a foundation wall using steel I-beams every 5 to 6 feet. Bowed, sheared and tipped walls can be quickly repaired and restored with just one product.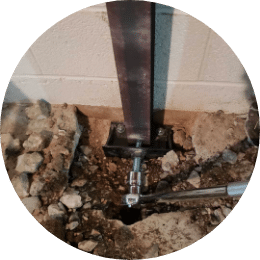 Wall Anchor Tie-Backs
Wall Anchor Tie-Backs are large, screw-like implements installed through your foundation wall, adjacent to the soil. They secure your wall by providing opposite pressure that cancels out the hydrostatic pressure in the soil.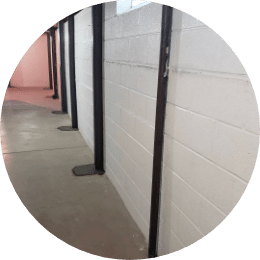 Carbon Fiber Stabilization
Similar to steel beam supports – except the beams are replaced by carbon fiber straps (a material created by the US Military) that are stronger than steel and weigh a fraction of a steel beam.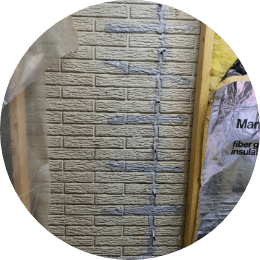 Crack Injection
In some cases, the basement wall may only show superficial cracking and not warrant more extensive corrections. For these cases, resin crack injection will seal up cracks to prevent water intrusion and provide integrity.
Schedule a Free Foundation Inspection
WE PROVIDE SOLUTIONS THAT ARE ENGINEERED TO LAST
Have you discovered cracks or water in your basement? Don't worry; Summit Basement Company has you covered. We have proven long-term solutions that will keep your home safe and healthy.
Why Choose Us
As your structural repair partner
We Protect Your Home
H.E.P.A. filtration, negative air machines, and dust barriers are just a few methods we use to isolate the mess to the project area.
Attention to Detail
Our process is meticulous. We do things that others won't. These details can make or break your structural repair system.
Trained & Certified
An educated and productive team means your project is completed right the first time and on schedule.
What Our Customers Are Saying
"Jake was very knowledgeable, responsive and does amazing work. Prices are very competitive/affordable compared to other basement services in the area. Highly recommended!
—Michael S.
I contacted the company by email and the responded back right away. Jake came the same week and addressed all my concerns of cracks in my walls. Explained what my issue was and gave me all my options. He was very professional and knowledgeable. Thank you so much!! Great company... would definitely recommend!
—Deanna D.
"We were at our wits end trying to find a contractor to repair our foundation. We called Jake and from day 1 he was responsive and honest with us on what needed to be done and how much it would cost. He kept every appointment he made with us and arrived on time. On the day of the repair, Jake showed up with his crew on time. The work was done accurately and quickly and our house is solid. We are extremely pleased with the work and highly recommend Jake and company for any foundation work you need done."
— Tammy S.
"The guys arrived on time and worked very hard to get the job done in a timely manner. Even through removing drywall, concrete, and installing drain pipes and a new sump pump they kept the area neat and clean - even took extra precautions to not track mud on the floors!! The crew was very professional, the work they completed is great, and the price was right!! Highly recommend!"
—Angela G.
"Very professional and courteous, prompt gives full explanation of work that is needed as well as cost saving tips. Wasn't in a rush,made sure we had a full understanding of the work that would be required to have the job done correctly which made my wife and I feel good about the company we contacted... Highly recommend Jake"
—Ronald I.
 "Jake came out to inspect our basement and gave us an honest assessment. He took the time to look at all of the issues and put our minds at ease. A true professional. I would recommend them to anyone in need of structural repair."
— Christopher S.